The Shoe Store
Shemale
2006-06-04
The Shoe Store
By
L 
            Adam hated working Wednesdays. He works the entire day from opening to closing every Wednesday. His manger always takes Wednesday off. This was mostly a boring day for Adam. A few women came in the store before lunch which was a disappointment for Adam. Adam is a bit of a pervert. He likes to take a peak up a woman's dress or skirt while he is putting on shoes for them. The morning customers all were wearing slacks.  
            A woman came into the store a little after lunch time. She was wearing a halter top with a short skirt, stockings and heels.   Adam went over to her and asked if he could show her anything. She said she needed a new pair of shoes for a party she was going to attend this coming Saturday. She wanted to see shoes with a four inch heel in Silver size 11M. Adam went to the back and came back with four pairs of shoes. He decided to take a peek up the woman's skirt while he was fitting her with the fourth pair of shoes. He noticed that she was wearing thigh high stockings, but she wasn't wearing any panties.
greece escort service
She caught him looking up her skirt. She just lightly tapped him on his head and asked him if he liked what he saw. Adam just simply nodded in the affirmative with a sly grin on his face. She said, "I'm Nyssa and I'll come back at closing to give you a full view. " She left after purchasing one pair of shoes. Adam returned the other pairs to the back wondering if Nyssa would indeed come back.  
            The rest of the day was like the beginning. All the women came in dressed in slacks. Adam kept wondering if Nyssa would come back.  
            It was closing time. Adam had closed out the register and put the money in the safe. He then let his night clerk out the door. He locked the door and then did is final check. He heard a slight tap at the door. It was Nyssa with a small tote bag.
European Escorts Directory, Escorts Service and Reviews Welcome to the most comprehensive call-girl directory. Here you can see ratings, girl service reviews, photos of the girls. Search and find blond, brunette and redheadsescorts from your town or count
She came back as promised. He let her inside. She asked if there was somewhere in the store that would be private. He nodded in the affirmative, and led her to the office in the back after relocking the door.  
            As soon as they entered the office, Nyssa spun Adam around and gave him a passionate kiss, and then whispered in his ear, "We are going to have some fun. " Nyssa leaned against the desk and removed her halter top exposing her medium sized breasts while Adam was getting over the initial shock. She said, "Suck my nipples. " Adam attacked her nipples like a hungry infant. She said, "Gently baby gently. " He slowed down. He then started swirling his tongue around her nipples. "Oh baby that's good, "she moaned. She then reached under her skirt and started playing with herself.  
            "Ok baby stop sucking my nipples. I want you to get undressed for me, "she said after she stopped playing with her self.
We provides massage and escort services in Malaysia for KL, Penang, Genting, Melaka, Johor Ipoh, Langkawi for sex, spa.
Adam did as he was told. Nyssa noticed that Adam's cock was a little hard. She grabbed it and started gently stroking it. Adam started to moan with pleasure. She kept up the gentle motion until she felt a little leakage. She stopped and said, "I don't want you to cum just yet. Sit on the desk while I put on a little show for you. " She started to dance and started to strip out of her skirt.  
            Nyssa slowly inched her skirt downward. Adam's eyes followed her every movement. Eventually, her skirt was low enough to reveal a slightly erect cock. "I told you that I was going to give you a full view," she said in a low sexy voice. Nyssa continued dancing until she was completely out of her skirt. She then stroked her cock until it became half erect. Adam's eyes were fixed on her cock.
Greece escorts. call girls Greece | Escort Greece
She guided his head to look into his eyes and said, "now the real fun is about to begin. " 
            Nyssa reached into her tote back and brought out a rubber glove and a container of lube. "I need your asshole well lubed for what have I mind. Be a good boy and turn around and lean on the desk for me," she told Adam. She put on the glove while he was turning around. She lubed up the middle finger of the glove. She slowly penetrated his asshole with her finger. He moaned while her finger went deeper inside. Nyssa started moving her finger back and forth once it was in all the way. She even twirled it around a few times. She kept this up for a few minutes. Both of their cocks grew harder.  
            Nyssa said, "I think you are ready for the next stage" as she removed her finger, and then the glove. She reached into her bag and removed a seven inch dildo. She lubed up the dildo and she stroked it to get it coated with the lube.
İstanbul Outcall Agency Turkey
She inserted it into Adam's asshole and he moaned again in pleasure. Nyssa pushed the dildo in as far as Adam could take it. She used the same technique as she did with her finger. She started slowly and gradually went to a faster pace. Adam continued to moan in pleasure as the dildo kept going in and out of his ass. Nyssa kept shoving the dildo in and out of his ass until she had a complete hard on.  
Nyssa said, "I think you are ready for the final stage" as she removed the dildo. She reached into her bag for a condom. "I like to be safe," she said while putting on the condom. She inserted her dick into Adam's asshole. He let out his loudest moan. She pushed it in as far as Adam could take it. He continued to moan. Nyssa started thrusting her cock slowly at first. Adam started moaning louder still when Nyssa quickened her thrust.
italy escorts swedishharmony shemale escort in greece independent escort dubai angelika black escort mina pornstar estella escort athens shemale escort germany girls for escort escorts in europe
Nyssa continued her thrust at a faster pace and then Adam cried out, "My cock feels like its going to explode. I need to cum. " Nyssa replied, "I'll take care of it as soon as I finish. " Nyssa continued to pound Adam's ass until she shot a forceful load.  
"I do enjoy fucking a young man's ass, "she said as she slowly removed her cock. She peeled of the condom and tossed it into a nearby wastebasket, and then said, "Now let me think. What am I going to do with that hard on of yours? I know what I could do if we were at my place. I'm not going to let you suffer until I get you there. Turn around. " Adam did as he was told and she grabbed his cock. "My you do have a hard one", she said. Nyssa always liked seeing a hard cock on a man after she fucked him. She started stroking his cock. "Please make me cum," he begged. She replied, "Since you asked nicely and have been a good boy, I am going to jerk you off.
emilia escort in poland escort review daniela jolie anastasia 4u denise porn ewa escort cassy et carla turkey escort
Sit on the edge of the desk. " Adam complied. Nyssa reached into her bag for another condom. She said, "This is so that we won't have any mess to clean up" as she was putting the condom on Adams hard dick. She started with slow strokes. Adam began to moan again. She stroked faster and Adam's moans once again became loud. All of a sudden Adam yelled,"I'm Cumming!" Nyssa could see the condom filling up with his hot juice. She gave Adam a few hard strokes to squeeze out the remaining cum. She peeled off the condom once Adam's cock started going limp. The condom joined the other one in the wastebasket.  
They both got redressed after they rested for a few minutes. Adam led her out of the office and then let her out of the store. Nyssa gave him a quick peck on his cheek and a slight grab on his ass. She whispered in his ear, "Maybe I'll come by again and take you to my place.
escort a paris erotic massage paris gianna michaels escort escort nevra escort girl thessaloniki brenda bentley - vip escort esort
" She left and proceeded to her car. Adam waved goodbye as she drove away, and she blew him a kiss. Adam relocked the door. This was one night he will not forget.  
Adam finally lived out a fantasy of his. He always wanted to have sex with a she male every since he bought a she male video. Adam bought a video once based on the title. He did not know what the movie was about. The movie had scenes of she males fucking men, and she males fucking women. Adam became turned on while watching this video. This was his favorite movie to jerk off with.  
Adam left the store after he gathered his belongings. He wondered if Nyssa will ever come back once he got in his car. Adam was happy. He lived out a fantasy or is it possible that his life has changed?
.
escort bayan
Escorts - Some of the most well-paid companions in the world work as call girls in Barcelona
If you're searching for a night out on the town, the escort females in Barcelona will not disappoint. They are knowledgeable with the city's nightlife and can show you the finest pubs, clubs, and restaurants. Whether you want a calm drink or a crazy night out, these ladies will be able to meet your every desire.The companions who work as call girls in Barcelona are among the most sought after in the entire globe. These gorgeous and sophisticated ladies are masters of the art of seduction, and they have been taught to present their customers with the most memorable experience possible. Call girls in Barcelona are the ideal option for every occasion, whether you want a passionate night out, a passionate dinner date, or simply someone to keep you company. Call girls in Barcelona are available 24/7.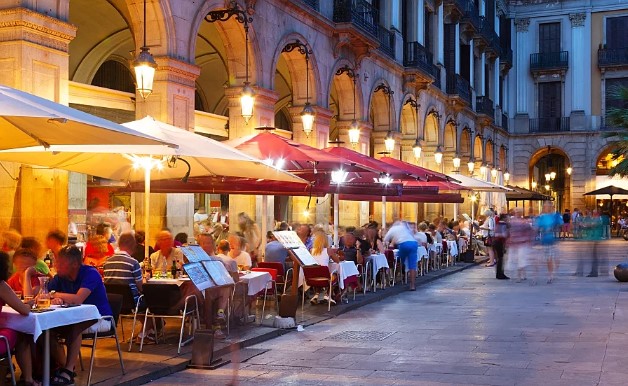 Escorts in Barcelona
It is essential to be aware that the escort sector in Barcelona is highly regulated, with stringent rules in place to safeguard the health and safety of both customers and workers in the industry. Every single female who wants to work as an escort must be at least 18 years old and submit to routine physical examinations to guarantee that she does not have any sexually transmitted diseases. They are also obligated to conduct their business in accordance with the law, and any acts that violate the law are strongly forbidden.The city of Barcelona is renowned for its active nightlife, and one of the characteristics of this nightlife that is particularly well-liked is the accessibility of escort females. These young women are in high demand among both the natives and the vacationers in the area, and for good cause. They provide a degree of friendship and amusement that cannot be equaled by any other sort of service.
Barcelona escorts -
https://hotescortreviews.com/escorts-from/barcelona/
You won't be dissatisfied with Barcelona's escort females if you're seeking for a night on the town. They are knowledgeable about the local nightlife and can show you the top pubs, clubs, and eateries. Whether you want a quiet drink or a crazy night out, these gals can accommodate your every desire.When it comes to sexuality, Barcelona is a very welcoming and open city. You may find a wide variety of nightlife options in this lively city, from the red-light district and the Erotic Museum to sex clubs and LGBTQ+ gathering places. Just go ahead and book a flight to Barcelona so you can experience it for yourself.
Barcelona escort girl -
https://bur-dubaiescorts.com/escorts-from/barcelona/
Opium, which is situated on the seafront, is yet another well-liked nightclub. This nightclub has an air of opulence and is well-known for the VIP tables and bottle service it provides. The club welcomes DJs from all over the world and has a fantastic atmosphere thanks to the presence of both locals and visitors.Barcelona is a city with it everything, in general. You will discover something to adore in this dynamic and interesting location, whether your interests are in culture, history, gastronomy, or beaches. So why not make travel plans right now and discover Barcelona's enchantment for yourself?