One Night
Erotic
2007-09-22
(For Matthew)
We were sitting in my living room watching some crappy film on TV. I'd lost the plot after 10 minutes but was happy to sit with his arm wrapped around my shoulders and my hand slowly inching its way up his thigh. As the end credits rolled up the screen he turned his face towards around for a kiss. However instead of the normal brief lip bump kiss we normally did I softened my lips and opened my mouth up slightly. He responded to this instantly by moving the end of his tongue between my lips, pushing his way into my mouth. I wrapped my arms around him and deepened the kiss. As we french kissed he pushed me down until we were lying horizontally on the sofa. He moved his hand under my t-shirt, feeling my red basque I had put on especially as I knew he liked it. His hand reached my breast and I felt a jolt of pleasure run through my body to my pussy. I arched up against him. He pulled my t-shirt off and went to bite my breast through the fabric of my basque. I moved my hands to the bottom of his t-shirt and tugged it off, throwing it across the room before running my hands over his back, pressing myself against him as he pulled the cup down to get at my breast with his mouth. I moaned as he started to suck my nipple into his mouth while running his other hand down my body. He undid the top button of my jeans. I moved my hand to stop him undoing the zipper.
"There's no rush, go slowly" I say, kissing along his cheek to his ear, sucking his earlobe into my mouth.
Luxury escort services in Greece. Beautiful girls to escort you and fulfill all your desires.
He moaned and pushed down against me. I felt his cock against my thigh through both of our jeans. He moved his hands to my back, unfastening the clasps of my basque. I kissed all round his face as he did this, once the clasps were all undone he slid the straps down my arms and took it off, letting it drop down the side of the sofa. He kissed all around my collarbone and down over my breasts, avoiding contact with my nipples. I felt my nipples harden with need for attention as I ran my hands over his shoulders and back. He licked the fingers of his left hand and ran them over my left nipple. He blew gently onto me and I moaned at the sensation. He then lowered his mouth gently licking me with the point of his tongue.
For five minutes he continued this alternating between breasts as I lifted my hips up against him to feel his hard cock between my legs. When his hand moved to my zipper again I didn't stop him. Instead I lifted my hips as he pulled my trousers down, revealing my red thong. He moved back up so our faces were level and kissed me, moving his tongue in circles around my mouth before using his teeth to catch my tongue and suck it gently into his mouth.
Greece Escorts Hellas Athens Escort Ellada Girls Alla Models
His fingers moved slowly down over my thong, I felt his fingers move over my clit and moved to encourage more stimulation. However he moved downwards to run his fingers back and forth over my pussy teasingly. I moaned and moved my hips, trying to get him to penetrate me with his fingers. He slowly slid one finger into me as he returned to kiss me on the mouth. He slid his finger in and out of me slowly as he used his thumb to gently stoke my clit.
I moved my hands to the top of his head and gently pushed down, directing him to what I wanted. He took the hint and kissed down my body again, using his free hand to remove my thong. He withdrew his hand from inside me and ran his tongue over my slit, barely touching me at all. I moved down the bed a fraction, trying to increase the sensation, however he then moved down as well, determined to run the show. I smiled, knowing what I had planned next and how out of control he would be. He moved his tongue slowly around my clit. I moaned loudly and moved my hands to my breasts, running my hands over and particularly circling my nipples. His tongue darted out teasingly at my clit while his fingers returned to thrust inside of me. I moved my hand to his head, pushing it closer to my cunt. He took the hint and sucked my clit into his mouth, his tongue circling.
greece massage
I felt my orgasm building up inside of me as he continued, gradually getting faster and harder. I felt the waves of pleasure radiate out from my pussy through my body. I lay as still as possible in order to feel every bit of my orgasm as much as possible. As I relaxed, my body still twitching randomly, he kissed his way back up my body until he reached my mouth. Shoving his tongue deep into my mouth, he lined his cock up with my pussy. As I felt him start to push his cock against me, I moved my hips.
"Not yet" I move kissing down his body stopping, just above where the head of his cock was resting against his stomach. I pushed him over onto his back, pushing his hands above his head. I reached under the pillow and grabbed the tie from my dressing gown I had hidden there earlier. As I kissed him, I put his hands together and wrapped the cord around tying it tightly around. I moved off him, stood up and moved to the side of the sofa. I took the remained of the cord and tied it around the speaker stand. I stood by his head, where I knew he could see what I was doing, and ran my hands over my body, before moving them between my legs. I slid my fingers deep inside me. He moaned and tugged on the tie, testing how far it could stretch.
Directory Escort Directory Escorts Directory Greece Escort Athens Escort Directory Escort Girl Escort Greece
He licked his lips as I stepped closer to the sofa. I ran my free hand up his leg. When I reached his balls I moved my hand downwards, running a finger between his balls and arsehole. His hands reached down, trying to get at his cock but he couldn't reach. I lent over and blew gently on the head of his cock. He jerked up towards me, trying to get his cock in my mouth. I stopped fingering myself and used both hands on him. As I moved my hands up and down I turned them in different directions slightly. He moaned loudly at this and I felt his cock twitch and grow even bigger in my hands.
I bent my head down and moved my tongue around the head of his cock as I removed one of my hands. I moved one hand up and down the shaft as I used my tongue on the head. He moaned loudly, I smiled as I continued to suck him off. I moved one hand down towards his arsehole. He wiggled away from me so I stopped. What I was doing for a second.
athensladies τατιανα
I stood up and walked over to the little table besides the sofa. I bent over knowing he could see me, enjoying every moment as I knew my arse was one of my best features and it drove him wild. I removed my rabbit vibrator from the draw, I turn it onto a low power and run it up and down his body, slowly, teasingly. His hips thrust up involuntarily. I giggle lightly as I again bend to take his cock into my mouth holding the vibrator against his balls. I felt the vibrators through him in my mouth. I felt him swell inside my mouth as his orgasm came closer. When I sensed he was close to coming I moved away again.
"Please" He begged.
I untied him and he pushed me over onto my back, he used his hand to push my legs apart and drove his cock into me in one powerful thrust. I gasped with the pleasure of it. He reached out and pinned my hands above me head with one of his, running his other hand over my breasts roughly. I moaned and arched against him as he started thrusting hard inside me. He reached round for my vibrator and turning onto high power pushed it up into my arse. I resisted, trying to avoid it for a few minutes but he was having none of it.
istanbul escort agency eva mercedes paris outcall escort hilton escort agency bologna escorts
He kept applying pressure until I gave in and the vibrator slid into me. I felt a little pain but that feeling was soon replaced by pleasure as he started to slide slowly in and out of me until I adjusted to the feeling of being completely filled. When he felt me respond to his thrusts he started to thrust harder again, causing me to wrap my legs around his back in order for his cock to hit my clit as he moved. I started moving against him faster causing him to speed up. I felt another orgasm building up inside me as he thrust inside me, moving harder and faster every minute. He let go of my hands and propped himself up further to get a deeper thrust. I wrapped my hands around his back digging my nails into him as I felt my orgasm hit me. I cried out loudly, throwing my head back and screaming in pleasure. He thrust deeply inside me and moaned from deep in his throat. I felt his come shooting deep inside me, warming me. He collapsed onto me, pinning me to the sofa with his body. I smiled sleepily up at him.
"Good film huh"
.
Escorts - Barcelona offers several beach-related attractions to offer beach lovers
Of course, escort ladies in Barcelona provide a lot more than simply company. In addition to their other talents, many of these females are masters of the massage arts and can provide their customers a much-needed therapeutic massage. You may hire them for everything from dance and roleplaying to sexual services.The Erotic Museum is another hotspot for sex tourists in Barcelona. From ancient sex toys to contemporary pornography, there is something for everyone at this museum devoted to the history of sexuality. It's a fascinating destination that will change the way you think about the significance of sex throughout human history.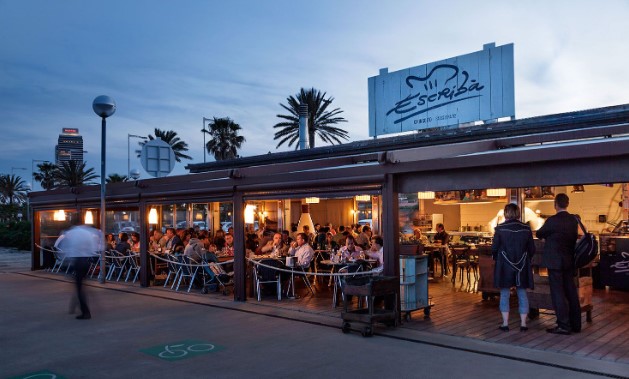 Barcelona escort
Barcelona is a city that is well-known for its exciting nightlife, breathtaking architecture, and stunning beaches. However, what a lot of people don't realise is that it is also a city that has a sexual culture that is quite liberal and welcoming of a wide variety of sexual orientations and practises.As a conclusion, it can be said that the call girls in Barcelona are among the most stunning, witty, and cultured companions in the world. This group of women is ideal for a passionate or passionately romantic evening. They can adapt to any situation and always have a smile on their face. There's no need to hold off, then. Get in touch with a Barcelona call lady now for the best in companionship and enjoyment.
Escort -
https://escortlaradana.net/escorts-from/barcelona/
When it comes to attractions, Barcelona is hard to beat. There's a solid reason why millions of tourists go there every year: it's an incredible travel destination. This stunning metropolis has much to offer everyone, from Antoni Gaudi's famous buildings to a pulsating nightlife.Barcelona is consistently ranked as one of the most visited cities in Europe, with millions of tourists passing through each year. Catalonia is a region in northeastern Spain that is noted for its unique culture and language. This lively city serves as the capital of Catalonia. Barcelona is a city that truly has plenty to offer visitors from all walks of life, including breathtaking architecture, delectable cuisine, stunning beaches, and a significant historical past.
Barcelona escort -
https://micro-escort.com/escorts-from/spain/barcelona/
Nitsa is an absolute must-go destination for music fans that gravitate towards the techno genre. This club is known for hosting some of the world's most talented techno DJs, and its location in the basement of the renowned MACBA art museum in Barcelona contributes to its stellar reputation. The nightclub is open till six in the morning and features an outstanding sound system.In sum, the escort ladies of Barcelona are your best bet if you're in need of a lifelong partner. They are stunningly attractive, exceptionally bright, and very refined; in short, they will give you an experience you will never forget. That being said, why hold off? Get started exploring everything that this great city has to offer right away by making a reservation with an escort lady in Barcelona.