/

Erotic

/

Way Past Want, I Needed That
Way Past Want, I Needed That
Erotic
2006-04-22
Way Past Want, I Needed That   
I should've known we'd never stop. Paris and I had sex at least 3 times a day while we together. We fucked a lot. We were together for 2 years, and fucked nearly everytime we saw each other. After we broke up, we still fucked. Even while I was dating someone else, we still fucked. She was just the best piece of pussy I'd ever had the pleasure of putting my dick in. Until she met someone, and decided now was the time for us to stop, and now she was going to be faithful. I was in a relationship too, so I needed to at least try to be faithful as well, but everytime I saw her, I couldn't help it. I had to get near her sexually somehow. Either by groping, and sometimes licking her so perfectly well-rounded Double-D tits, or forcing a finger inside her wet cunt. Or even just kissing her. Something, anything, but it would always end up the same way, she'd leave me with no pussy. I couldn't stand that shit. It wasn't enough that she was a beautiful 5'8, 162 pound, slender figure, Cherokee/Caucasian girl, but she had the best pussy I'd ever fucked. But now, she didn't want that.
Escort agency in Greece. Escorts and city tours in Athens and Thessaloniki.
Now, she just wanted us to be friends. The kind of friends that share everything. EVERYTHING.   
You have a new Instant Message from Wetkitty69, would you like to accept? I clicked Yes.
Wetkitty69: 'Sup? 
I couldn't believe this shit. The girl who I spent two years with, fucking, and loving was giving away her pussy to strange dudes, and letting them fill her up, but I wasn't able to get a piece of it. And she was throwing the shit in my face like it was a joke. Naw, fuck that. I'm getting mine, and this time, I ain't never gon' let it go.
I set it up to have Paris come over to my house one night. I had her on the phone all day talking about what had happened, and how I was hurt at how she could do something like that. I even made it seem like I gave a shit about what her boyfriend might think. With all of that, I convinced her to come over to my house, so we could talk this out face to face. She agreed. At nine o clock that night, she showed up.
Spend an hour or two with a call girl in Thessaloniki and you will no sooner think that you are truly in the cradling warmth of a goddess in the persona of the Greece Escorts girls athens. Every single female Escort In Greece exudes warmth that no men can
In a yellow flower-print dress that hugged the sensual curves of her gorgeous breasts. I was licking my lips already. I could see why an old man would want a piece. And why he had trouble pulling out of it too. She sauntered inside, her head hung low with dissapointment from our recent talks.
"Look, I'm sorry. I didn't know you would be so upset about this. " she explained upon entering.
"Paris, you may be my ex, but I am still concerned about you, and that was a little reckless on your part. I didn't mean to blow up at you like I did, but I was a tad bit pissed off. " I answered.
"Were you pissed off because of what I did, or because you wish it was you?" she asked.
"A bit of both actually. " I replied honestly, "Why exactly is it that you won't fuck me again? I know I was your favorite. " I asked.
Escorts Thessaloniki City Tours Athens Greece Eladda Agency Reviews ... Toggle this Category Escort Forum GR ... Complaints customers Escorts-Agencies.
"I just don't want to get hung up on you again is all.
"Oh, so it's that you wanna be with me, and you don't want to be hung up on me without some emotional attachment?" I reworded her statement.
"Yes. " she nodded.
I began to slowly unbutton my jeans, and let my 9 inch cock free. It was soft now, but even still, it looked long, and ready to go. She smiled. "So even if I showed you this dick, you wouldn't want to fuck it?" I questioned eagerly.
"Nope" she muttered. I let my hand caress her thigh, and slowly work it's way up.
"So even if I did this, you wouldn't let me fuck?" I asked again.
"Nope. " she breathed out.
escorts hellas
I snuck both hands underneath her dress, and tugged down her thongs to her ankles. I spread her legs apart, so I could get a view of her cleanly shaven, fat pussy lips. I moved my hands up to lift her dress above her waist. She complied. I pulled down my jeans, and set my cock completely free. Without hesitation, I plunged it into her pussy. Almost as if it never left, her pussy clenched my cock around it's familiarity, and I pounded inside her snatch. I loosened the straps on her dress, and her tits bounced freely in my face. The nipples were pert and ripe for the sucking and licking, and I had no problem obliging to such a request. My dick plunged inside Paris's fuckhole with incredible vigor. Never have I wanted to be inside someone so much. I was vigorously sucking her tits, and fucking her pussy almost to the point of raping it. I just wouldn't stop. . .
escortforum greece
I couldn't stop.
"You miss this dick, don't you?" I grunted into her ear.
"Yes, yes!" she screamed out.
"Tell me you love my dick. "
"Oh, I love your dick. "
"Who's pussy is this?"
"It's yours baby. It's yours. "
I continued to fuck Paris like a madman possesed. Suddenly, all of our sexual excapades flooded back into my brain. The time, we fucked in our house in the middle of the night when no one was home. How we fucked on the beach in the middle of a rainstorm, how we fucked in my bedroom during Thanksgiving while the whole family was there, how we fucked at my mother's house while she was in the next room, how we fucked in front of her ex-girlfriend, how I fucked her after we broke up, how I snuck into her house while she was sleep, and fucked her. The more I thought about it, the better it felt to be having another go at this incredible pussy. "Oh fuck, I'm gonna cum in this pussy!" I stated.
"No, wait, you can't!" Paris warned.
"Fuck that, you let that old geezer cum in you.
escort estella athens
Now it's my turn!"
"But. . . but. . . I'm not on the. . . " The last word was a little vague to me as when she said it, I was unleashing the floodgates of the most massive orgasm of my life inside her womb.
Spurt after spurt after spurt of powerful baby juice. It was at least 7 or 8 full squirts that went in. So much cum that it leaked out of the sides of her pussy. I pulled my cum soaked cock out, and Paris's body collapsed onto the floor. "That was unbelieveable" she said, "I can't believe you came so much in me.
czech shemale escort escortnews.gr dhaka escort agency shemale escorts europe slovakian escorts escortes paris adult escorts
You probably got me pregnant, I was trying to tell you I didn't take my pill today!"
"Really?" I said. I noticed, Paris still had her dress on, but as she laid on the floor, the straps covering her tits was still down, and her dress was still above her waist, exposing her pussy to me. The sight of it was making my cock hard again. I let her catch her breath for a few more seconds, and then took into her again. This time going slower, savoring every wall, and crevice of this magnificient, glorious, fuckbox. I had shot so much cum inside her, I wasn't even prepared to let out another one, I was going to enjoy fucking her hole for a while. I plowed inside and out of her, making her scream and cum over and over again. "I'ma make you have my baby!" I shouted at her, as my dick fucked her snatch harder and harder. Her nails were digging into my shoulders and back, but I didn't care, her pussy was the best.
"Yes baby, cum in me again. I want it all. I want to have your baby. " She shouted.
"Fucking slut. " I said into her ear as I plowed her wet pussy harder.
eskort bayanlar istanbul eskort hazal esmer escort bayan halkalı bayan escort halkalı escort halkalı escort bayan istanbul bayan escortlar istanbul bayan eskortlar istanbul escort bayanlar istanbul eskort istanbul eskort bayan istanbul eskort bayanlar msn
There was no greater feeling than being inside this cunt. I never felt anything better. I finally shot my load again, this time it was smaller, but still strong. I emptied my sack completely in her. I pulled out, and fell to the floor beside her. My cum dripping out of her pussy, and onto the floor.
"So what does this mean?" she asked.
"It means, I'm the only one who ever gets to fuck that pussy. It belongs to me now. "
Vapidnation:Nuttin much, you?
Wetkitty69: I fucked this guy today
Vapidnation: WHAT?
Vapidnation: I thought you had a boyfriend?
Wetkitty69: I do, but dude was sexy as fuck, and he had a big ass dick
Vapidnation: Man, I don't wanna hear this shit
Wetkitty69: He was 39, and he's got a kid.
Vapidnation: What the fuck? Why would you fuck him then?
Wetkitty69: I couldn't help it.
Vapidnation: Man. . .
Wetkitty69: What, are you jealous cuz you can't fuck me anymore?
Vapidnation: I don't see why you'd let a 39 year old dude with a kid fuck you while you have a boyfriend, but you won't let me anywhere near the pussy
Wetkitty69: You've had enough.
Escort - Συνοδοί
Vapidnation: Shit. I'm greedy.
Vapidnation: Damn, I don't believe you. Giving up my good ass pussy to some nasty ass old dude with a kid.
Wetkitty69: And it was good too. He shot a fat ass load in my pussy.
Vapidnation: You let that fool cum in you?!
Wetkitty69: I'm on the pill.
Vapidnation: Man. . . hell naw.
Vapidnation has left the conversation.
.
Barcelona escort girls - To summarise, if you are travelling to Barcelona and are seeking for the ideal travel companion, your search might end here with the escort females found in this city
Last but not least, Barcelona is renowned across the world for its vibrant nightlife. After nightfall, the city comes to life with an abundance of pubs, clubs, and other music venues to cater to a variety of preferences. There is something for everyone, whether you want to party until the wee hours of the morning or have a conversation over a drink with your pals.In sum, if you're in need of company, entertainment, and more, escort ladies in Barcelona will provide you with an encounter you'll never forget. You may find an escort lady in Barcelona who will cater to your every want and provide you an experience you won't soon forget, whether you're a native or a visitor. Try it out and see for yourself why everyone is raving about it.
Barcelona escort girl
The Sagrada Familia, a massive church that has been under construction for more than a century, is one of Barcelona's most recognisable sights. The Sagrada Familia, by the world-famous architect Antoni Gaudi, is a stunning example of Gothic and Art Nouveau architecture. The inside of the basilica, which is open to tourists, is adorned with priceless artworks including stained glass windows and elaborate woodwork.There is an escort girl in Barcelona who can meet your needs, whether you want a pretty woman to go to a business event with you or just want a night out on the town. These girls have gone through a lot of training and know how to give their clients the best experience possible. They know how to talk to people and can hold their own in any social setting.
Barcelona escort girl -
https://escort-guide.tv/escorts/Spain/Barcelona.html
When it comes to sexuality, Barcelona is a fairly liberal and welcoming city. This lively city has something for everyone, whether you want to check out the red light district, the Erotic Museum, or one of the numerous sex clubs or LGBTQ+ venues. Rather of taking my word for it, why not plan a vacation to Barcelona and experience it for yourself?Park Guell, also constructed by Antoni Gaudi, is another must-see when in Barcelona. There are mosaics, sculptures, and unusual buildings galore in this fascinating park. Travellers may wander the park at their own pace, taking in the sights of the city and the Mediterranean Sea.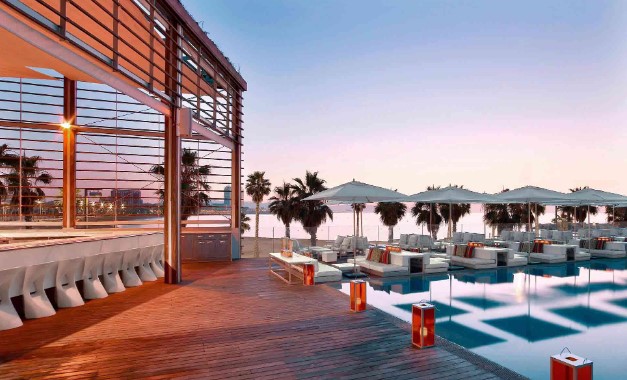 Barcelona escort -
https://escortlaradana.net/escorts-from/barcelona/
The escort females in Barcelona have extremely reasonable rates. Some females charge as low as €100 for an hour, while others might go as high as €500. The cost of a date with a lady varies according on her level of expertise, the services she provides, and how long the date lasts. You can be certain, though, that you will receive your money's worth.Sex in Barcelona is available in many different settings, not simply the red light district and sex clubs. There is also a large and active LGBTQ+ population in the city, and many pubs, clubs, and events are designed with them in mind. Arena, Metro Disco, and Punto BCN are three of the most frequented gay clubs in Barcelona.