Amy's Surprise
Shemale
2006-04-29
"Amy's Surprise" 
by Matthew Ford 
Amy Carlson was a beautiful girl who lived about 3 blocks from my house in a town with less than 2,000 people. She was home schooled until she was 19, when she transferred to the high school for her senior year.  
Amy had brown, shoulder-length hair and beautiful green eyes. Her dad was a dentist so her teeth were blindingly white. She had evenly tanned skin, was about 5'6" and probably weighed around 120 lbs. She had a nice pair of boobs. They weren't huge, only 36B, but they were round, firm, and perfect. Her legs were long and muscular, her stomach was firm, and her ass was amazing. It was round and well sized. Somehow, it was firm and soft at the same time. The year Amy went to the high school I was a junior. I had a few classes with her, but not as many as I would have liked. She only attended classes to get the credits she required to get into the private college she wanted to attend. I was the starting tight end and line backer on the varsity football team that year. Amy wanted to be a cheerleader, but she said she was just too busy. I could understand that, she went to school in the morning and worked as a waitress in the afternoon.
The Escort of Greece is home to the sexy and gorgeous Athens callgirl in Greece. This Athens escort agency in Greece assures each and every client of an
After the start of the 2nd quarter of school Amy's sister, Karissa, got into a car accident with Amy's car. Since she only had liability insurance, and was saving all her money for college tuition she couldn't get a new car. Her parents had two other children to put through college after her so she didn't ask them. Since her house was on the way to school I started giving her rides everyday. I would stop outside, honk, and she would be ready to go. One morning on the way to school, I asked her to go to homecoming with me. She said that she would love to, but she couldn't. No matter how much I asked she wouldn't tell me why. I just assumed it was because she wasn't over her ex-boyfriend, who had gone on to college that year.        
The year went on until football and basketball were over. It seemed like the year had gone by really fast. Amy and I spent virtually all of our free time together. At the beginning of April I asked Amy if she would go to Prom with me. She said no, again refusing to give me a reason. Two weeks later after school Amy came over to my house since she had the afternoon off and I didn't have tennis practice on Fridays.
eskort athens
We were watching "Zoolander" in my room when the doorbell rang. I went to go answer it. It was the FedEx guy. My dad had gotten a package. I left it on the counter for him and went back to my room. When I walked in Amy was on my computer checking her MySpace account. Amy looked at me, smiled, and said, "Matt, you wanna hang out next Saturday? I can get the day off. " 
"Next Saturday is Prom 'Ames'. I guess we could hang though, I don't have a date for it anyway," I answered.  
Amy said, "Well, if we're gonna be hanging out anyway, and Prom is going on, why don't we just drop in and check it out?" 
I was stunned. "You mean…wait, do you mean you wanna go to Prom with me? Or do you just wanna check it out?" 
"Matt, will you go to Prom with me?" she asked smiling.  
And just like that, I had finally succeeded in getting a date with Amy, or she had succeeded with me, either way I was happy. I had to line up a tux fast. I called my friend Brandon and he hooked me up. I was excited the whole next week.
Athens Escorts Greece Escort Greece Escort Agency Συνοδούς
Everyday I saw Amy, and everyday she seemed to flirt a little more. Then, finally, Saturday came. I spent almost the whole day getting ready. I went to town to get a corsage and I stopped by the jeweler's. At 7:30 that night, I grabbed the corsage, jewelry box, (and stuck a condom in my wallet, just in case) then got in my car and drove to Amy's house. I went to knock on the door but Amy opened it before I could. She was standing there in a strapless dark purple dress that went to mid-thigh and pushed up her breasts, revealing a lot of cleavage. "Let's get out of here before my parents know you're here. They must've taken a million pictures of Karissa and Brian. " 
We went to a nice restaurant for dinner. We talked and ate in our corner booth for almost an hour before I got the bill. Amy had been touching my leg all evening, but after the waiter went to get my change she laid her hand directly over my dick. She started rubbing and I knew it wouldn't be long before it was hard. We adjusted our seating so we were even closer. Amy rubbed my crotch until I knew I was about to cum.
greece escort services
I started to groan, and then she stopped, saying, "Not yet. Not here. " Then she got up as the waiter brought the change back. And said she had to go to the restroom but she would meet me in the car.  
It was a little after 9:00 when we got to the school. We presented our tickets and went inside. Every time we danced Amy would rub up against me. My dick was throbbing by the time we went to take pictures. I let her choose the pose we would use. She decided we would do the dance pose. She laid back into my arms like I was dipping her. My dick pushing and rubbing against her ass. I knew she could feel it, and I also knew she loved torturing me like that. 
When the last dance started playing at 11:55, the Prom King and Queen took their spots in the middle of the dance floor. It was my friend Brandon and his date Stephanie.
Thessaloniki Escorts, Greece Escort Directory, VIP Greek Escort Girls
We had already congratulated them and we decided to duck out then. There were several parties we could have went to, but we decided to go back to her house. Her parents had decided to get an early start on their anniversary vacation by getting a hotel room for the night before heading to the airport the next morning, so we would have the house to ourselves until Karissa got home. We both knew that Brian would not miss a party, so we had a while.  
As we sat on her couch making out, I broke the kiss to give her the necklace I had bought her. She said she loved it, and that she had a surprise for me as well. She stood up and unzipped her dress, lowering it enough to reveal that she had a strapless purple bra on. She smiled at me as she unsnapped it and showed me her amazing boobs. The dress was still around her waist as she came back to the couch and sat on my lap. Amy looked me right in the eye and said, "Remember the day I asked you to Prom?" I nodded "And Remember how I wouldn't go out with you or tell you why before that?" I nodded again. "Well, I'm going to show you why I wouldn't go out with you until tonight. Last week, when you went to answer the doorbell, I got on your computer to check my MySpace, but before I did that, I wanted to see how far you'd gotten on your Economics report. I was going to check the report I swear, but I saw a folder that I had never opened before. I was curious, so I opened it. There was another folder inside, so I went into it.
Turkey escorts directory
Then, I saw something that shocked me. I had found your porn. I figured you had some, most guys do, but I was surprised at the kind. Now, before we go any farther, I have to ask…do you like that shemale porn?" 
I was mortified. I didn't know what to say. I thought she was going to freak if I said yes. But then again, if that's what had gotten her to go out with me, maybe I should tell her the truth. "um, well, I'm gonna be honest with you Amy. The idea of a hot girl, who also has…uh, a dick, does turn me on…so, yeah, I uh, I like shemale porn. " I was really embarrassed, I was waiting for her to get up and ask me to leave.  
Just as I expected, Amy stood up…but instead of asking me to leave, she smiled at me. I looked back at her, confused. "Matt, I love the necklace…it was a great surprise. " As she pulled down her dress she went on, "and I told you that I have a surprise for you. And I think you're gonna like it.
Ücretli Bayan Escort İstanbul
" With this, her dress dropped to her ankles and she stepped out of it. She was wearing a purple thong, but what intrigued me most, was the bulge in it. "I have your surprise right here. But before you open it, I need to know that you want it. And you have to promise me that this surprise will be our secret. And you have to agree to always take good care of the surprise. Now, will this be a secret?" I nodded. "Will you take care of the surprise?" I nodded again. "And finally, do you want it?" 
"Amy," I replied, "I want your surprise more than anything. " 
She stepped forward and said, "Then open it up. " With that, I slowly reached my hands out, and pulled down the purple thong until an 8 inch cock sprang at me. "Suck it, suck my cock," Amy said softly, yet sternly. I needed no more coaxing. I opened my mouth and wrapped my lips around Amy's cock head. I popped it from my mouth, then stuck it back in.
escorts istanbul
I sucked on the head for a few seconds, then I stuck my tongue out and licked the bottom of her cock. I took it out of my mouth and licked the length of Amy's surprise several times before taking it back into my mouth. This time I went deeper, sucking about 4 inches into my mouth and bobbing my head on that for a while. Amy looked into my eyes the whole time. "Deeper," she whispered. So I began taking another couple inches of her cock. it was pushing into my throat now, my body wanted to gag, but I wouldn't let it, I was loving sucking Amy's cock too much to stop. She threw her head back and exhaled loudly. I began massaging her balls. They were shaven clean, just like the rest of her body. I squeezed them softly, and she moaned quietly. "Lick my balls," she commanded. I didn't want to stop sucking her cock, but I did as she said. I slowly jacked her cock while I licked her balls. My face was buried in her crotch.
call girls στην αθηνα
"Suck them," she whispered. I took one into my mouth and sucked on it, then pulled my mouth away and it popped out, then I wrapped my lips around the other, repeating this several times. I was jacking her cock with one hand, fingering her ass with the other, and sucking her balls one at a time…I was really into it. 
Amy undid my pants and pulled my 7 inch dick out. She immediately stuck it in her mouth. As she went up and down on my cock her left hand squeezed my balls. I was so hot, I knew I wouldn't last much longer. She stopped her expert blowjob long enough to say, "Lemme know when you're gonna cum. " Then she lunged her head forward, forcing my cock down her throat.
σεξ στην αθήνα
She was taking it all, I couldn't believe it. Amy went all the way down and all the way back up so quickly I knew she had done it many times before. Every time she would pull her head back far enough my dick would make a 'pop' as it was released by her lips.  
"Ames, I'm, I'm gonna cum…" I struggled to speak because of the amazing feeling. When I said this Amy's mouth went into double time. She sucked harder, bobbed faster, and her tongue seemed to be everywhere on my dick at once. I moaned as I came. Shooting a good 9 shots into her mouth, surprisingly she never stopped to swallow, it just all collected in her mouth as she continued to suck. She kept working on my dick until the pleasure was too much for me to take and I grabbed her head and pushed it away. All of my cum was still in her mouth. She opened wide to show me, then closed her mouth and swallowed it in a series of 3 gulps. She smiled at me with her snow white teeth.  
Amy stood up and said, "I love cum. That's one benefit of having a dick, I can have nice warm cum whenever I want. I want you to finish me now, but don't swallow.
Just keep it in your mouth and we can share it. " 
I dropped to my knees and took her cock in my mouth as quickly as I could. I wanted to take all of it like she did to me, but her cock was about an inch longer than mine, plus I had never given head before. I was able to get almost 7 inches of it. I tried to duplicate the things that she had done to my cock on hers, I could make it 'pop' out of my mouth, but I couldn't suck as fast or as hard as she could. As I worked on her cock, I started squeezing her ass. I began thrusting her cock down my throat by pulling her closer to me with my hands on her ass, basically forcing her to face fuck me. After a few minutes I was able to take almost all of her sweet cock down my throat. She warned my that she was going to cum, so I started massaging her balls. I moved my mouth out so that I only had the cock head in my mouth, then I took my left hand and started pumping her shaft while playing with her balls with my right. She threw back her head and groaned as cum started spraying into my mouth. Shot after shot of Amy's jizz filled my mouth. I swallowed some of it, I remembered what she told me, and I really wanted to share it with her, but there was so much of it I had to. I swallowed 2 gulps of it and my mouth was still full to capacity. I didn't know cumming that much was possible.
The Escort of Greece is home to the sexy and gorgeous Athens callgirl in Greece. This Athens escort agency in Greece assures each and every client of an
When Amy finally pulled her dick out of my mouth cum was running down my chin because I couldn't keep it all in. it didn't taste particularly good, but it wasn't bad either. The feeling of having Amy's hot jizz filling my mouth was incredible. She dropped to her knees and tipped my head forward and started kissing me, her tongue stealing her cum from my mouth. Her cum dripped out of our mouths and got all over her chest.  
After kissing and swapping the cum back and fourth for about a minute, Amy started swallowing whatever went into her mouth. I started to swallow as well, trying to get as much from her as I could. We both drank it greedily until it was all gone. Then I pushed her back, licked up what was on her breasts, and swallowed desperately.  
We made out for another 20 minutes until Amy got up and went to get something to drink. When she came back to the living room she had 2 bottles of Gatorade and a paper bag. She threw me the bag and a bottle. I took a drink, and peeked in the bag. I saw condoms, dildos, lubricant, and a couple CD's.  
Amy took a drink of her Gatorade and smiled brightly, "I hope you're not too tired, it's only 2:15.
eskort athens
I'm not done yet, are you?" 
I thought for a second, and replied, "Ames, I could go all night. " 
Just then a car pulled into the driveway. It was Brian's car. Karissa got out of the driver's side and walked up to the door with Brian following closely behind. They came inside together and walked right by us and upstairs without a second glance. I looked to Amy after they were upstairs and she said, "Don't worry, we'll see them again before we go to sleep," then she took another drink of her Gatorade and flashes me a beautiful smile. As I looked at her I thought to myself, "My girl has a bigger cock than I do. How many guys can say that?".
www.mykonosescort.com
has a long list of babes and escort agencies in Mykonos!
Mykonos escort girls will turn you on!
Here you can read all necessary information about call girls in Mykonos. Our site shares data about a lot of Mykonos girls who are ready to provide you with escort services. Absolutely verified profiles of real bimbos will not leave you unsatisfied. A lot of gentle and classy nymphos can turn on anyone. Just take a look at their erotic pics and read about their services. You are a male and you deserve to spend time with the top-class babes. They will fulfill your fetishes and make all dreams come true. It's very comfortable when you can find out hair color, and languages of each girl. It means you'll know exactly what kind of damsels is going to meet you and save yourself from unpleasant surprises.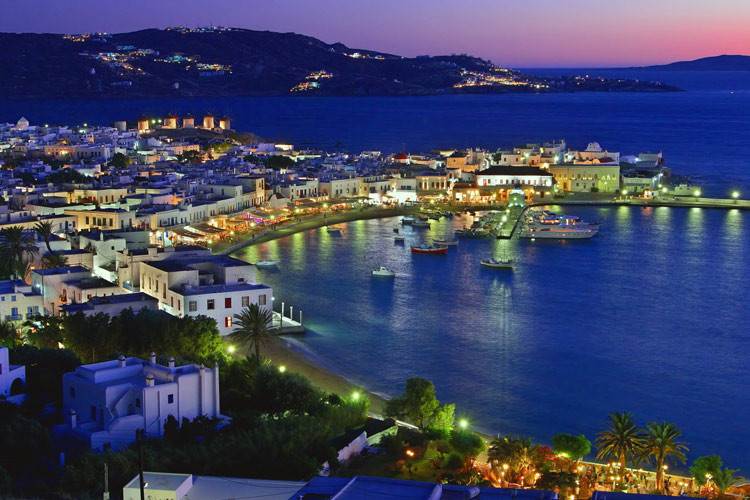 Some of the lassies on our site are not amateurs but work as porn actresses. You may be sure about their talents. Ravishing misses will show you all their skills in bed. If you wish to have fun with your spouse, look for call girls who work with couples, too. These colleens know how to bring diversity to your sexual life. You can
watch
the endless list of lady vamps and pick one immediately.
The best escort agencies of Mykonos want to serve you!
Coming to this awesome Greek island, don't forget to become a customer of our escort agency! Do you know that Mykonos's nickname is "The Island of the Winds"? Tourism is a main industry and Mykonos is well-known for its vibrant nightlife and has many establishments catering to the LGBT community. Here you can meet a lesbian chick of your wishes and have the unforgettable time in your life. It is a crazy idea to have a boat tour with arousing ladyloves. After that, you can visit Fokos Beach, and Little Venice. A better ending of such a day will be an incredible night with courteous escort girl.Our hottest escort service in Mykonos provides the list of the first-class fresh sweeties and experienced MILFs who are ready to meet you and fulfill all your dreams. Pick one to have an unrepeatable time! Escort models of Mykonos will realize all your wishes. All these perky damsels were created for love and happiness. They are glad to share a bed with you. There is nothing that can stop you. This is the top-class website and it shows the hottest girls in Greece. Don't lose your lucky chance to become a client of
escorts mykonos
right now.